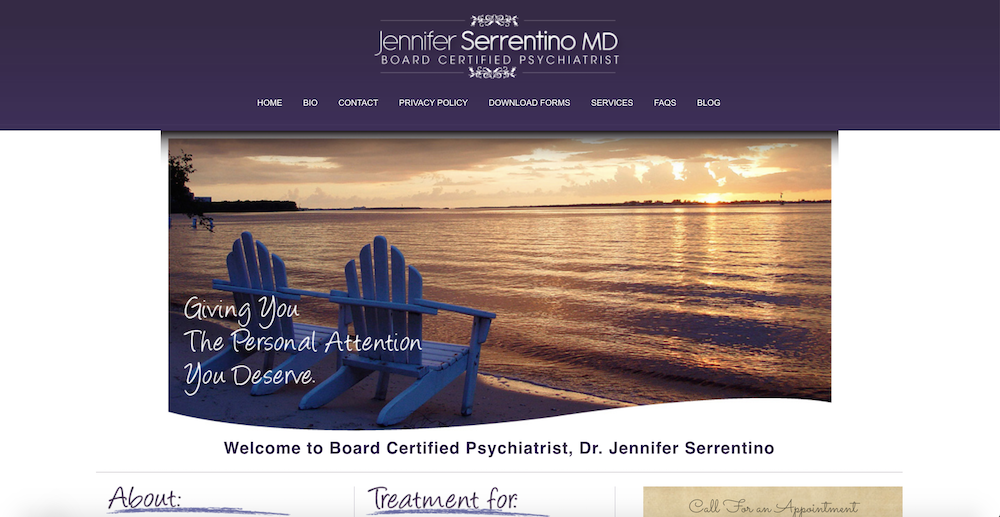 Board certified Long Island Psychiatrist, Jennifer Serrentino, MD has been practicing for over 15 years. Specializing in anxiety, depression, eating disorders and much more Jennifer Serrentino, MD performs pharmacological management as well as psychotherapy of adults. Taking a collaborative approach with patients and integrating treatment with other mental health and medical providers. Jennifer Serrentino, MD's practice is located at 414 Main Street, Port Jefferson, NY 11777. In keeping up with current technology Jennifer Serrentino MD launches a new website.
Jennifer Serrentino MD Launches A New Website
For this scope of technical work Jennifer Serrentino MD hired Long Island web design agency, Benjamin Marc. "When Jennifer called me to build her website I was very happy. Jennifer's bio is so impressive in itself that I made it one of the websites main pages. The website is filled with tons of useful information for online readers to know more about the practice. Some of the pages you will find on the new website are:
Bio
Services
Privacy Policy
Contact
Download Forms
Frequently Asked Questions
Blog
The frequently asked questions page answers a lot of highly inquired concerns from patients. Patients can download registration, privacy acknowledgment & cancellation forms prior to their visit. Finally the website lists an in-depth services page which is as follows:
Medication Management
Individual Psychotherapy
Depression
Mood Disorders
Anxiety
Obsessive Compulsive Disorder (OCD)
Phobias
Attention Deficit Disorder (ADD)
Eating Disorders
Alcoholism and Addiction Treatment
Suboxone Induction & Maintenance Treatment
Psychiatric Evaluation for Disability
Psychotic Disorders
Post-traumatic Stress Disorder (PTSD)
I'm very happy with the way the website turned out and since the launch it has been receiving great feedback. Since the launch several website analytical trackers show an increase in new visitors". Commented Anthony Savino CEO of Benjamin Marc.
Please feel free to browse through our website. If you have any questions, concerns or to make an appointment please contact us.